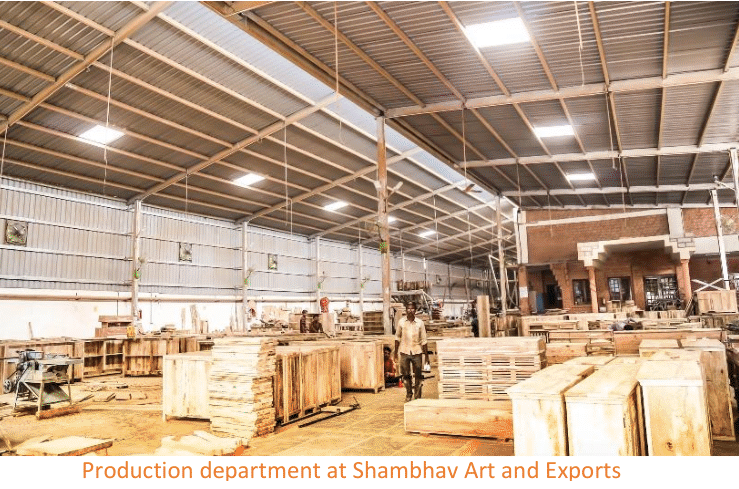 Shambhav art and exports, an in house manufacturing unit spread over an area of 50,000 sq. ft. We at our unit procure the machineries with recent technologies, material of best quality and team with best experience, knowledge in manufacturing. Availability of machinery and tools, in house production line up makes us to manufacture quantifiable amount of products per month. We specialize in one of the best finishes and quality of the products.
Our in house processes consist of sorting, seasoning, machining, carpentry, assembling, sanding, finishing, quality check, packing and shipment. We are a self-reliant organization with an experienced line up committed to produce quality products. Our in house manufacturing processes, makes us stand tallwhile manufacturing furniture. We also consider the safety of our employees and environment, as the essential prospect in our growth.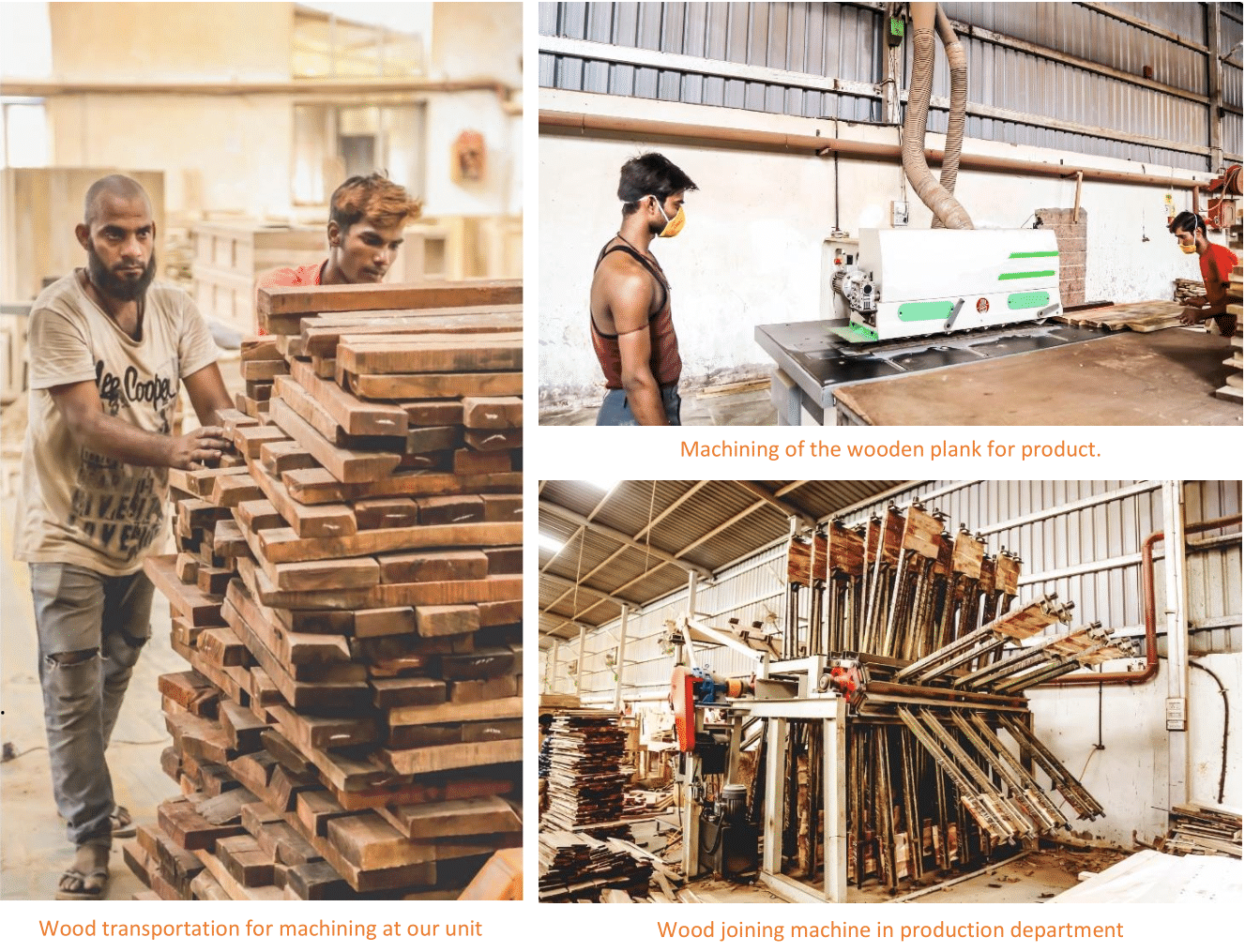 At our unit, each piece of furniture is formed under the supervision of our supervisors. While machining, each plank is checked thoroughly along its sides, which makes the plank to bind perfectly. We plan our production in a way to have minimal wastage of the resources, time, and money. We do ensure minimal or no environmental impact while manufacturing.
Our carpentry department, provides the shape to product with stable joineries. All the measurements are checked and verified by the supervisors before and after the works. Wood quality is also checked by the carpenters while carpentry works.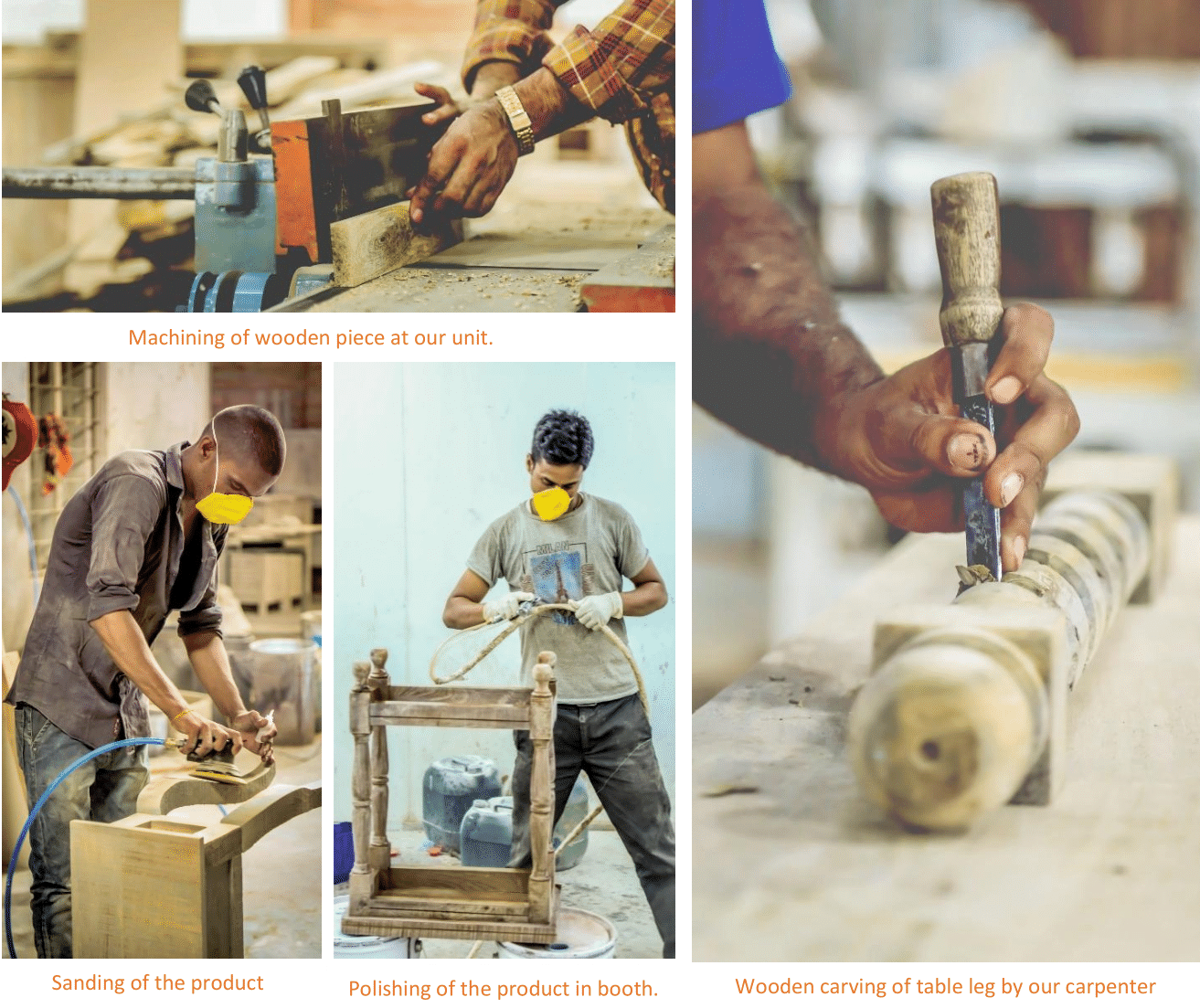 With all such facilities, we specialise in the best finishes available in the market. Our skilled employees prepare the colour mix themselves, as expected by our clients. With our experienced team, we check the quality of our finish for each product and commit to produce the best quality finish for our products. We ensure the quality and standards of the colour, other chemicals which are being used
Each product after passing the quality checks is packed as per standards for delivering damage free product by our packing team. We commit to deliver the product intact to our customers.
Apart from a manufacturing unit, we also have a warehouse for the storage of timber. It is spread across an area of 22,000 sq. ft. with basic facilities to protect wood which we procure. We also have our corrugation manufacturing unit, which yields the best and intact packaging box for our product shipments.